Clean lines, modern shapes, urban environment. This is how students live today.
Since September 2022, students in Aachen can rent one of our 157 apartments (73 single and 42 double apartments) in a central location close to the university. An architectural highlight at the foot of the Lousberg, what more could you want? Chic on the outside, young and fresh on the inside. All apartments are fully furnished and have their own kitchenette and shower room. Besides your personal belongings, you only need to bring bedding and dishes when you move in. Sounds simple? It is! And when you have moved in you can directly access the internet, the online flat rate is also included in the complete rental price.
If you wait, you miss your chance. To the convenient online application.
APPARTEMENT QUICKFACTS
electricity, water and heating included
free, own WLAN
terraces/balconies
common rooms
shared balconies
covered bicycle parking
washing & drying room
33 underground parking spaces
all apartments have a balcony
prerequisite for all tenants
is a valid proof of studies or training
Aachen-Lousberg
Nizzaallee 34
52072 Aachen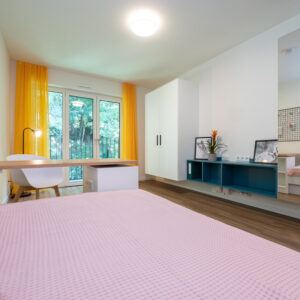 approx. 22 m²
balcony/roof terrace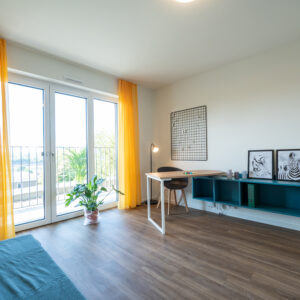 approx. 45-58 m²
balcony
2 persons/separate bedrooms
First step to student housing happiness - our online application: